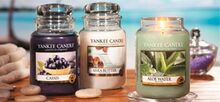 Picture Source: www.yankeecandle.co.uk, 26/01/2015
Pure Essence is the name of a collection released in the UK for Spring 2015. The fragrances featured in this collection are Aloe Water, Cassis and Shea Butter.
Be refreshed and revived this Spring with three indulgent new fragrances of Pure Essence. This luxurious collection takes some of nature's finest elements to create scents that will awaken, relax and stimulate the senses. (www.yankeecandle.co.uk, 26/01/2015)
Subcategories
This category has only the following subcategory.
Pages in category "Pure Essence"
The following 3 pages are in this category, out of 3 total.
Ad blocker interference detected!
Wikia is a free-to-use site that makes money from advertising. We have a modified experience for viewers using ad blockers

Wikia is not accessible if you've made further modifications. Remove the custom ad blocker rule(s) and the page will load as expected.